Entertain with this patriotic-themed playlist for the Fourth of July
Every Fourth of July party requires good, patriotic music to celebrate the nation. These songs will make great addition to your July 4th playlist.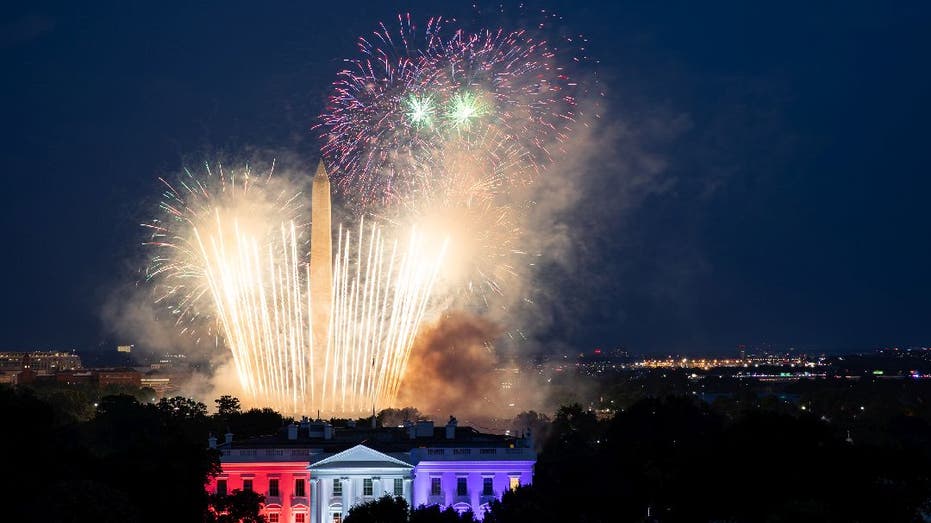 Show pride for your nation this Fourth of July with red, white and blue apparel, attending a parade or firework display or host your own party. 
Remember, though, no party is complete without a themed playlist. Whether you need a playlist for the car ride to a party, hosting your own, heading to the beach or need some inspiration to get you in a patriotic mood, these songs will help you get the party started.
FOURTH OF JULY; WHAT IS IT AND WHY DO WE CELEBRATE THE HOLIDAY WITH FIREWORKS?
"God Bless the USA" is a must-have on any Fourth of July playlist. This song was released in 1984 off of Greenwood's album "You've Got a Good Love Comin.' 
The song is full of patriotic lyrics, especially in the chorus when Greenwood sings "And I'm proud to be an American, where at least I know I'm free, and I won't forget the men who died, who gave that right to me, and I'd gladly stand up next to you and defend her still today, 'cause there ain't no doubt I love this land, God Bless the U.S.A." 
This upbeat song was released in 2001 off country artists Brooks & Dunn's "Steers & Stripes" album. 
"Only in America, Dreamin' in red white and blue, only in America, where we dream as big as we want to," the chorus of the song states. 
JULY 4TH QUIZ! HOW WELL DO YOU KNOW YOUR FACTS ABOUT INDEPENDENCE DAY?
This popular Skynyrd song was released in 2003 and is often played for Fourth of July. 
"Take Me Home, Country Road" is a classic from 1971 off Denver's "Poems, Prayers & Promises" album. 
This country hit is still popular today and is one that people will likely be familiar with, especially in West Virginia. Pop this one on your playlist and let everyone sing along to the catchy chorus. 
FOURTH OF JULY FIREWORK SAFETY TIPS: WHAT TO KNOW
You may recognize this song from "Rocky IV." This song was sung by Brown and was written specifically for this movie. 
In the scene from the movie where this song is used, Brown performs the song during Apollo Creed's entrance in his fight against Ivan Drago. During the scene, Creed is covered in American themed gear as the song is sung. 
This fast-paced jam will make you want to dance and celebrate the nation. 
While "Party in the USA" may not be as "patriotic" as the other songs listed, it's still a great song to play for the occasion. 
It's catchy, it's upbeat and fun. It came out in 2009 and is sung by Miley Cyrus.
VODKA PICKLES TO BRATWURST: AMERICANS REVEAL THEIR FOURTH OF JULY COOKOUT MUST-HAVES
While country and pop hits are great additions to a Fourth of July playlist, don't forget to mix in classics. Include "The Stars and Stripes Forever" by John Phillip Sousa to your 4th of July playlist. 
The song kicks off with "The Stars and Stripes Forever Let martial note in triumph float And liberty extend its mighty hand; A flag appears 'mid thunderous cheers, The banner of the Western land. The emblem of the brave and true."
Brad Paisley is the country artist behind the 2009 hit, "American Saturday Night." This is a song that you will want to play again and again. 
Included in the lyrics are "It's a French kiss, Italian ice, Spanish moss in the moonlight. It's just another American Saturday night. Oh, that's exactly what we have right here."
This is an oldie with a release year of 1968 off the album "Bookends." The Simon & Garfunkel song has a slow, calming sound but is still a great addition to your playlist. 
"America the Beautiful" is a classic that will spark the national pride in everyone. You won't want to hit the skip button when this song comes on during your Fourth of July festivities. 
If you're looking to add America's national anthem to your playlist, this version sung by Houston in 1991 is a beautiful rendition. 
INDEPENDENCE DAY: FOURTH OF JULY FACTS YOU MAY NOT KNOW
Johnny Cash, the country artist behind songs like "Ring of Fire" and "I Walk the Line" also released the patriotic hit "Ragged Old Flag" in 1974. 
"You see, we got a little hole in that flag there when Washington took it across the Delaware. And it got powder-burned the night Francis Scott Key sat watching it writing say can you see. And it got a bad rip in New Orleans with Packingham and Jackson tuggin' at its seams," sings Cash.
Toby Keith released "Courtesy of the Red, White and Blue" in 2002. This rugged country song will surely have everyone bursting with pride. 
"You just gotta ignite the light, and let it shine, just own the night, like the Fourth of July." This Perry song is a from her 2010 album "Teenage Dream" but should certainly get the crowd excited at your party.
No playlist is complete without a classic song from Bruce Springsteen & the E Street Band. "Born In The U.S.A. is one of Springsteen's most well-known songs and most of the guests will likely know it. If not, it's one of those songs that's easily recognizable and fun to singalong to.
This patriotic song was recorded after the terrorist attacks of September 11, 2001. The entirety of "The Rising" album covers a number of emotional hits honoring the lives lost that day.
The song reads, "Sky of blackness and sorrow, sky of love, sky of tears, sky of glory and sadness, sky of mercy, sky of fear, sky of memory and shadow. Your burning wind fills my arms tonight. Sky of longing and emptiness, sky of fullness, sky of blessed life.
What's Your Reaction?