Fed prosecutor says police were 'armed mercenaries to take cartel money' in fmr Mexican top cop Luna's trial
The prosecution and defense presented their opening statements in the case against former Mexican Secretary of Public Security Genaro García Luna on Monday.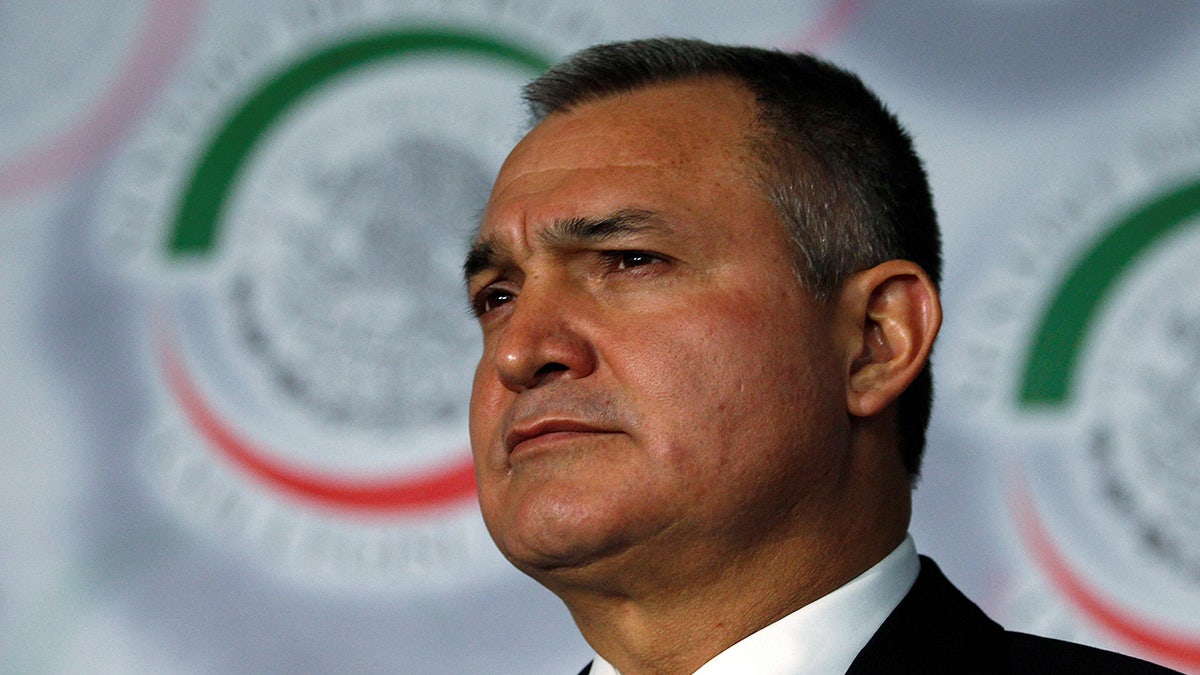 The trial of former Mexican Secretary of Public Security Genaro García Luna is underway, as the ex-top cop faces charges related to alleged drug trafficking.
Federal prosecutors in Brooklyn are accusing Luna of helping the Sinaloa cartel by allowing them to distribute tons of cocaine into the United States in exchange for millions of dollars in bribes.
"The evidence will show that the defendant, the person who was supposed to be in charge of fighting the Sinaloa cartel was actually its most valuable asset," Assistant U.S. Attorney Philip Pilmar said during opening statements Monday morning.
In addition to allowing drug shipments from Mexico, Luna's indictment alleges that he gave the cartel "sensitive law enforcement information" about operations against the cartel, targeting members of rival cartels, and placing corrupt officials in areas controlled by the cartel. Prosecutors with the Eastern District of New York have also claimed that Luna continued his criminal activity even after moving to the United States in 2012. Luna was living in Miami but was arrested outside Dallas, Texas in 2019.
OPENING STATEMENTS TO BEGIN IN DRUG TRAFFICKING TRIAL OF MEXICO'S FORMER TOP COP
"He thought he was above the law," Pilmar said Monday, adding that Mexican federal police served "as armed mercenaries to take cartel money." The prosecutor said Luna portrayed himself as a drug-fighting "hero," all the while "cocaine kept flowing into the U.S. with his assistance."
Luna's defense attorney Cesar de Castro told the jury during his opening argument that the government lacks "credible, believable, and plausible evidence" against his client. He stated that there are no photos, videos, emails, other records, or any money that supports their case.
SINALOA, MEXICO, ENGULFED BY VIOLENCE, CHAOS AFTER EL CHAPO SON ARREST, AHEAD OF BIDEN VISIT TO COUNTRY
"This case is really about the government's lack of objective evidence," de Castro said.
"This man, who represented the face of the war on drugs, they have abandoned him," he stated.
De Castro also looked to justify why cartel members would testify against Luna during the trial, saying that they are hoping to use their testimony as an "exit strategy" to get out of jail early, and are "cooperating their way out" in order to get their sentences reduced.
"The government's case is built on rumors, speculation, and the word of some of the biggest drug dealers in the world," he said.
Luna remained looking straight at the podium where his attorney stood during the opening statement, as well as the jury in front of him. Upon first entering the courtroom Monday morning, he spotted his wife and daughter in the gallery and blew them a kiss.
"Mi amor," he mouthed, with his hand over his chest.
Prior to the court's lunch break, the prosecution called its first witness, Sergio Villarreal Barragan. Barragan, also known as "El Grande," told the court how he went from being a police officer on the state and federal level to a member of the cartel.
Barragan testified that the cartel has made billions from trafficking drugs into the U.S., and that it has done so by using Mexican government officials who were paid off. He said he was present "at some points" when Sinaloa cartel leader Arturo Beltran Leyva paid Luna.
The trial is expected to last approximately eight weeks. The 12-person jury is made up of seven women and five men, with six alternates who are evenly split male and female.
What's Your Reaction?