Kayleigh McEnany slams top House Democrat for 'malicious lie' on GOP's parental rights bill: 'Totally nuts'
'Outnumbered' co-host called out Rep. Hakeem Jeffries Friday on his 'insane' rhetoric about Republicans' newly-passed 'Parents Bill of Rights.'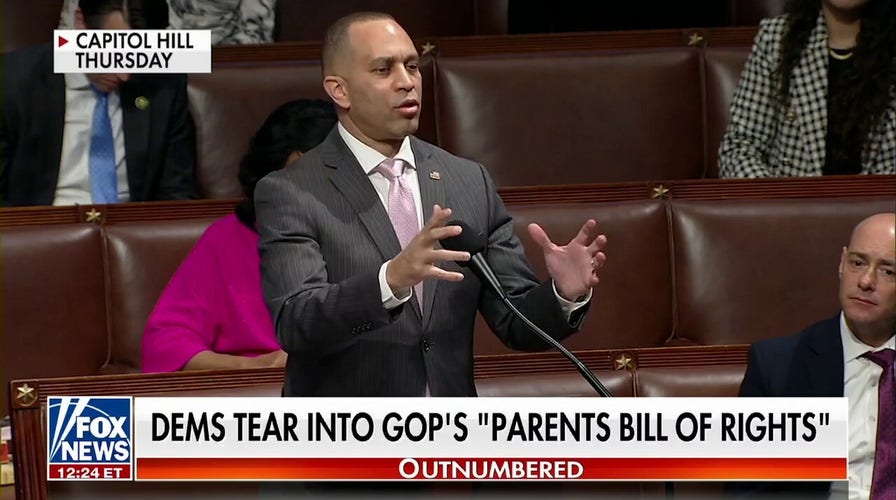 "Outnumbered" co-host Kayleigh McEnany fired back at House Democrats' "insane" criticism of Republicans' newly-passed "Parents Bill of Rights," Friday, accusing Rep. Hakeem Jeffries of telling a "malicious lie" in his speech on the House floor.
AOC ROASTED OVER CALLING REPUBLICAN PARENTS' RIGHTS BILL 'FASCISM': 'CLOWN SHOW EVERY TIME SHE TALKS'
KAYLEIGH MCENANY: Did they all go out drinking together? Because that was insane. That was totally nuts. This line in particular, I want to focus on Hakeem Jeffries for a second because he is the top House Democrat, right? So the highest there is. For him to make the claim, "Extreme MAGA Republicans don't want the children of America to learn about the Holocaust." What a malicious, egregious, outrageous lie. And I don't use that word lightly. But that is a lie.
Democratic and Republican leaders took turns accusing the other party of being "extreme" after the House of Representatives passed the Parents Bill of Rights Act mostly along party lines.
No Democrats voted for the legislation, and after it passed, House Minority Leader Jeffries told reporters the GOP was attempting to "jam their right-wing ideology down the throats of students, teachers and parents throughout America."
"Extreme MAGA Republicans want to ban books on the Holocaust. Ban books on the Holocaust. Extreme MAGA Republicans want to ban books on Martin Luther King Jr. Extreme MAGA Republicans want to ban books on the LGBTQ journey in the United States of America. Extreme MAGA Republicans even want to ban a book on Roberto Clemente and baseball," Jeffries claimed at the weekly Democratic press conference Friday. "That's their educational agenda."
House Speaker Kevin McCarthy, R-Calif., also led a news conference with members of his party, returning fire at the Democrats for opposing the bill.
"We have such an extreme minority party that they couldn't even denounce socialism," McCarthy said, referring to a House resolution condemning socialism that Democrats opposed. "Such an extreme minority party that thinks you should decriminalize carjacking and even some forms of murder. Such an extreme minority party, in the Democrats, that they think parents shouldn't have a say in their kids' education." 
Fox News' Chris Pandolfo contributed to this report.
What's Your Reaction?