MSNBC's Joy Reid regains her crown as Queen of Kook
MSNBC host Joy Reid has regained her status as the person who says the craziest things after host Tiffany Cross was canned.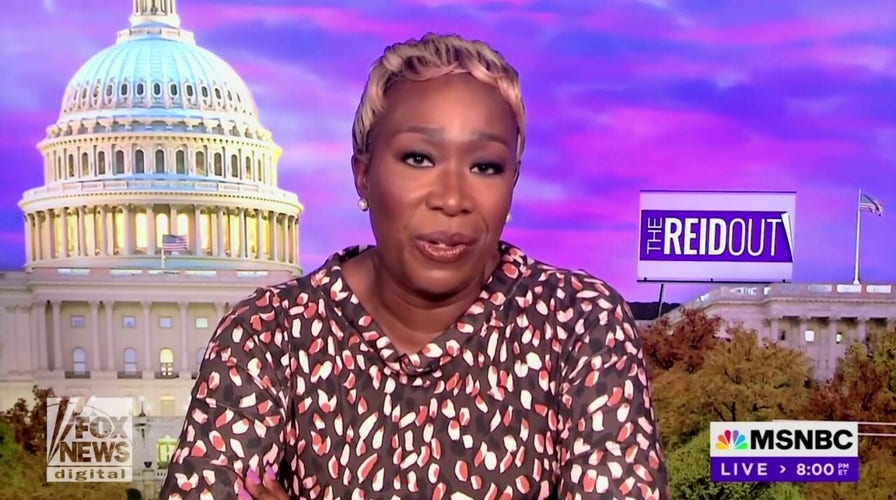 MSNBC host Joy Reid is in a constant battle to be No. 1 in her own, special way. She has managed to outdo the other prominently kooky Joy on TV – Joy Behar of "The View" – only because Behar has to share the stage and talk less. And now, Reid has regained her status as the person who says the craziest things on MSNBC, because host Tiffany Cross was canned. 
That means Reid is back making news, for all the wrong reasons. The host of "The ReidOut," turned the murder of Tyre Nichols into a condemnation of our entire nation. "What happened to Tyre Nichols was as American as apple pie," she declared. 
Arresting the five officers involved and charging them with murder doesn't matter to Reid. It doesn't even matter that the five officers are Black, represent a majority Black city and report to a Black woman police chief. "And it literally doesn't matter whether the police officer is White, or looks like you, grew up like you, or could without that uniform on, be you. It's not the race of the officer, it's the design of the system. Again, occasionally, some of the slave catchers were Black." 
For Joy, it's all black and white. 
Racism has always been part of the joy of … Joy. She loves calling anyone who disagrees with her, "racist" or some similar phrasing. On January 24, she compared attempts by Florida Gov. Ron DeSantis to eliminate liberal bias in education to "cultural genocide." She labeled him as "Florida's Jim Crow redux Gov. Ron DeSantis" in October. It's surprising she doesn't open each segment about Florida with a dartboard with DeSantis' face on it. 
JOY REID MISLEADS WITH UNCORRECTED VERSION OF WASHINGTON POST'S ARTICLE ON DESANTIS'S EDUCATION LAW
Reid also mocked African-American Republican Sen. Tim Scott for providing the GOP a "patina of diversity." She whined that nominating new Florida Republican Rep. Byron Donalds' nomination to become Speaker of the House was a "troll" move because Donalds is Black. The only other colors she seems to care about are red and blue.
Her racial narrative actually extends into Thanksgiving, or what she terms a "food holiday." To Reid, we "shouldn't buy into the white-washed history" of Thanksgiving. It's all "myth" or a "simplistic fairytale" about "colonizers."
She has it in for the conservative Supreme Court and openly supports packing the court with liberal "justices." She is upset because of her fear "that we're going to be forced to live under this far-right sort of religious dictum." 
Reid even attacks the conservatives on the Supreme Court for their race, faith or both. She has called them the "pro-just White Christian court" or the "Christianist majority on the SCOTUS." So, she lambastes them not just for their race, but declares their faith-based beliefs to be illegitimate. It takes a lot of hate to turn the name of someone's religion into a personal attack. 
What a bundle of Joy.
CLICK HERE TO GET THE OPINION NEWSLETTER
There is more to Reid than race … just not a lot. She is reliably pro-abortion and bashed Republican Sen. Lindsey Graham's abortion bill, the "Protecting Pain-Capable Unborn Children from Late-Term Abortions Act." The bill is aimed at limiting abortions in a similar way to what Europeans do. "The name of Graham's bill includes the phrase 'late-term abortions,' which is not accurate. Fifteen weeks is not a late-term abortion and it should not be used because it's actually a made up term," she argued.
Shockingly, she doesn't like Graham, either, calling him "a guy who is probably the most cravenly opportunistic politician since Marco Rubio and Mitch McConnell."
Reid doesn't even like football, blasting it as "NFL's modern day gladiator spectacle." I don't imagine she has Super Bowl plans. 
The "ReidOut" and its leftist host are just getting back into the swing of things. Now that Joy Reid has regained her crown as the Queen of Kook at MesSNBC, who knows what she will say next.
What's Your Reaction?